Learn How To Make Millions From Me & Several Millionaire Traders In My Next DVD
To purchase the PHYSICAL DVD COPY and have it shipped to you, click HERE.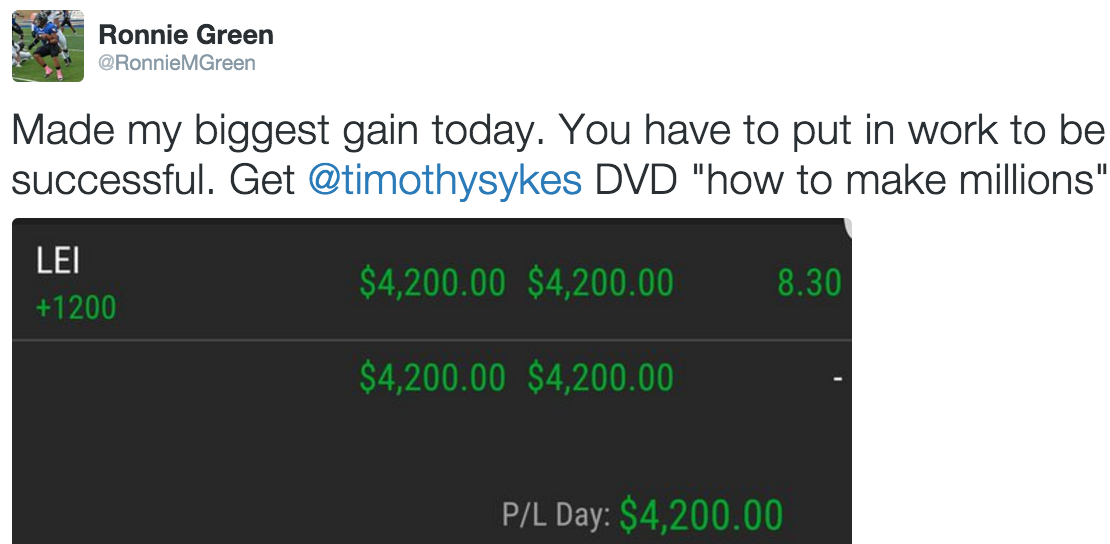 This DVD set is simply the best day trader training DVD I have ever wached....Tim you inspire me to be the best trader that I can be .... Thank you...Do yourself a favor and buy this DVD even if you are sceptical about it you won't regret the $300 investment in youself. I particularly related to the Tim Bohan DVD as he showed just how achievable it was to make money with Tim's penny stock trading strategy. -John Ratty
My favorite thing about this DVD is the way Tim converses with you whilst still teaching you a ton. The DVD teaches you all you should know about trading penny stocks. On top of Tim teaching you his strategy, you also get to learn other millionaire trader strategies. I would recommend watching this brilliant DVD 4-5 times if not more. I would also recommend this DVD to aspiring traders of all ages. -Jeff Lismore
HTMM is a great value for the small price tag. 30+ hours of information. Gives a complete overview of Tim's trading strategy and rules. You are not left with questions afterward. Many great chart examples and live trades as well. Absolutely worth the money if you are looking to take trading seriously. You can never feel bad about money spent on education because it always pays you back tenfold. -SHF
Best $300 Investment EVER. Watched all of it in a 5 day period. Along with full time job. Would recommend it to any one. -SV
Hey Tim, I just finished watching your How to make millions DVD. It was awesome, I have learned so much. The different strategies are a big help, I haven't found mine but I'm tweaking all of the ones I seen in the DVD or getting idea's from them. I wouldn't waste 30+ hours of my life watching just some random DVD, this truly has been inspiring. -JRuark
In this video Tim shows a superior teaching style and a wide range of knowledge. He also has verified trades proving he profits from what he preaches. There simply isn't a better teacher in this area available on the web!!! -H
Prepare yourself to be taken on a journey with Tim like you have never experienced before. If you don't know much about Penny Stocks Trading this is sure the DVD you must have. Tim provides as he promises. He starts with the basics in very easy to follow steps and continues to reveal his strategy how to trade Penny Stocks successfully. -Ziga
How to Make Millions is a great primer DVD to get you started on the world of penny stocks. Tim has so many skeptics/haters/etc. and I can't really blame this sector since the mere term 'penny stocks' conjures all types of images associating it with fraud, deceit, and/or a "get-rich-quick scheme."
However, once you embark the path of hearing from a very humble and detailed Timothy Sykes, you can't help but enjoy the 20+ hour journey from start to finish. He shows you that he's not really the BEST trader in the world, he's just extremely consistent and has mastered discipline. He then proceeds to give you some condensed notes of what his early starts in the penny stocking world are, what his come up was like, defines basic terminology for absolute newbies like my former self ;) , shows what his favorite set ups are, what his trading psychology is, and introduces you to some of the big roller penny stocking profitable associates/friends he has and THEIR own strategies. Once you get done with this DVD you will have a great wealth of information of how the penny stock world works and know deep in your soul that IT IS possible to become profitable in such world with enough CONSISTENCY and DISCIPLINE. Go get it NOW!!! -Auggy
© 2007-2018 TimothySykes. All Rights Reserved. | Terms of Service | Privacy Policy | Earnings Claims Disclosure
Millionaire Media 80 S.W. 8th Street Suite 2000 Miami, Florida 33130 United States (203) 980-1361 This is for information purposes only as Millionaire Media LLC nor Timothy Sykes is registered as a securities broker-dealer or an investment adviser. No information herein is intended as securities brokerage, investment, tax, accounting or legal advice, as an offer or solicitation of an offer to sell or buy, or as an endorsement, recommendation or sponsorship of any company, security or fund. Millionaire Media LLC and Timothy Sykes cannot and does not assess, verify or guarantee the adequacy, accuracy or completeness of any information, the suitability or profitability of any particular investment, or the potential value of any investment or informational source. The reader bears responsibility for his/her own investment research and decisions, should seek the advice of a qualified securities professional before making any investment, and investigate and fully understand any and all risks before investing. Millionaire Media LLC and Timothy Sykes in no way warrants the solvency, financial condition, or investment advisability of any of the securities mentioned in communications or websites. In addition, Millionaire Media LLC and Timothy Sykes accepts no liability whatsoever for any direct or consequential loss arising from any use of this information. This information is not intended to be used as the sole basis of any investment decision, nor should it be construed as advice designed to meet the investment needs of any particular investor. Past performance is not necessarily indicative of future returns.